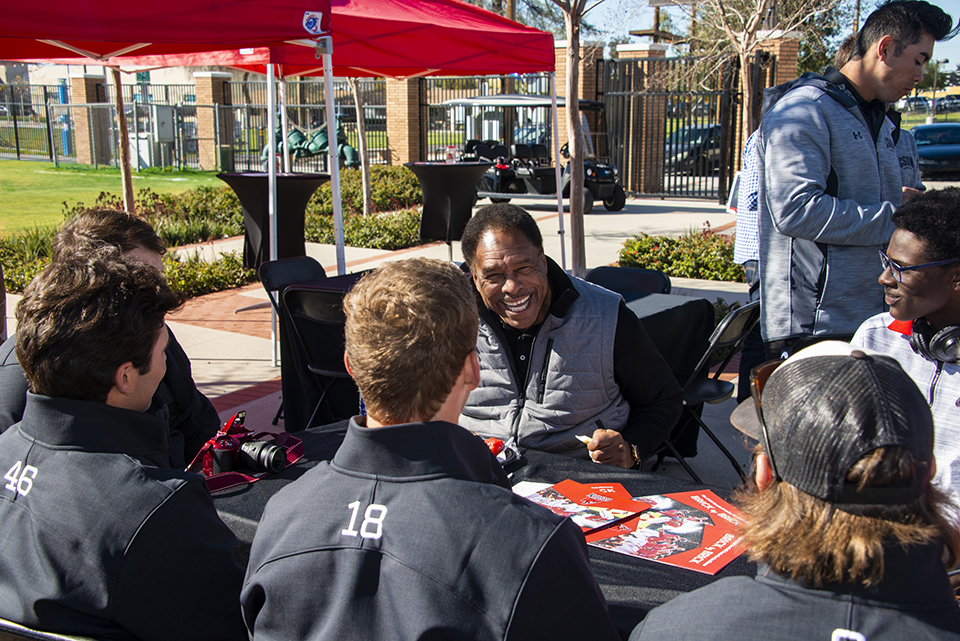 Baseball great Dave Winfield visits with members of CSUN's baseball team as the university and Major League Baseball celebrate a $1 million grant from MLB-MLBPA Youth Development Foundation to upgrade CSUN's baseball facilities. Photo by David J. Hawkins.
---
The joint MLB-MLBPA Youth Development Foundation (YDF) and California State University, Northridge (CSUN) today announced a $1 million grant to upgrade the school's facilities to help provide better opportunities for underserved young players and their families in the Greater Los Angeles and San Fernando Valley communities.
The grant will go toward renovating Matador Stadium through the purchase of a lighting system, as well as supporting CSUN's youth baseball initiative, which strives to develop baseball, leadership and life skills for kids, ages five to 17 in the San Fernando Valley.
The MLB-MLBPA Youth Development Foundation is a joint initiative announced by Major League Baseball and the Major League Baseball Players Association in July 2015 to fund efforts that focus on improving the caliber, effectiveness and availability of amateur baseball and softball programs across the United States and Canada. The Foundation also aims to enhance the quality of baseball and softball education, address overall youth participation, and help youth from underserved communities strengthen their connections to the game.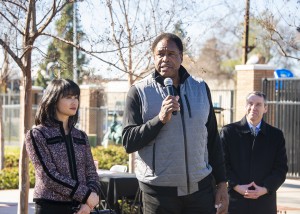 Jean Lee, Executive Director of the MLB-MLBPA Youth Development Foundation, left, Baseball great Dave Winfield and CSUN Vice President for University Advancement Robert Gunsalus at an event announcing the gift. Photo by David J. Hawkings
"The lasting impact that this project will have on the diverse Valley and Greater Los Angeles communities, both on and off the field, made it an ideal endeavor to support," said Jean Lee, Executive Director of the MLB-MLBPA Youth Development Foundation. "Quality lighting on a baseball or softball diamond can be easily taken for granted, but as this effort will demonstrate, it also can make a positive difference in the lives of generations of young people. We are proud to be a part of this renovation, which will contribute to the great programming provided by CSUN, its baseball program, and its student body."
The YDF grant will allow CSUN Baseball to host night practices and games in an effort to create a more family-friendly atmosphere and a greater sense of community. The stadium lighting project will make it easier for high school prospects to visit CSUN games more frequently. Through expanded field availability, the grant also will support CSUN's youth baseball initiative that serves diverse and underserved San Fernando Valley communities.
"CSUN shares the Foundation's deep commitment to community development and the power of sports to connect," said CSUN President Dianne F. Harrison. "This gift will help CSUN Athletics make an even greater impact on the communities we serve and also benefit future generations of our student-athletes. I deeply appreciate YDF's investment in our region and the success of CSUN Baseball."
"The CSUN Baseball players work with the community to introduce young athletes to university-level play, teaching them skills like time management for success in higher education," said Moore. "Lighting is an essential component of being able to expand the after-school programming we can offer, and to introduce more youth from under-resourced communities to a college-campus experience through baseball."
Hall of Fame player Dave Winfield, who serves as a special advisor to MLBPA Executive Director Tony Clark, played an instrumental role in bringing the school and the YDF programs together to collaborate on the project.
"As a board member of the Joint MLB-MLBPA Youth Development Foundation, I look for opportunities around the country that can further our mission of spreading youth baseball and education," Winfield said. "I live in Los Angeles and recognized CSUN's vision and commitment to youth baseball and education, a true commitment inside a unique community partnership. This model is what we want to support, and possibly have others follow."
For many of the 1.8 million residents of the San Fernando Valley, baseball is increasingly financially inaccessible to underserved communities. According to a national poll from the University of Michigan, nearly one in five parents of lower-income families reported that the cost of participation forced their children to cut back on sports. Since CSUN Athletics implemented its youth baseball program five years ago, it has reached more than 2,500 players and families in the Valley and Los Angeles with its baseball skills, college prep and life skills training.
"Much of what we do on campus and throughout the community would not be possible without the generosity of foundations like the Youth Development Foundation that support CSUN and its students," added Robert Gunsalus, vice president for University Advancement and president of the CSUN Foundation. "This partnership adds to the growing evidence that CSUN's elevating impact throughout the community is being noticed."